OFF-MARKET DEAL ORIGINATION
WizoDigital provides integrated deal origination services for investment banks and capital providers, delivering off-market and targeted deal flow.
---
TRUSTED BY INVESTMENT BANKS WORLDWIDE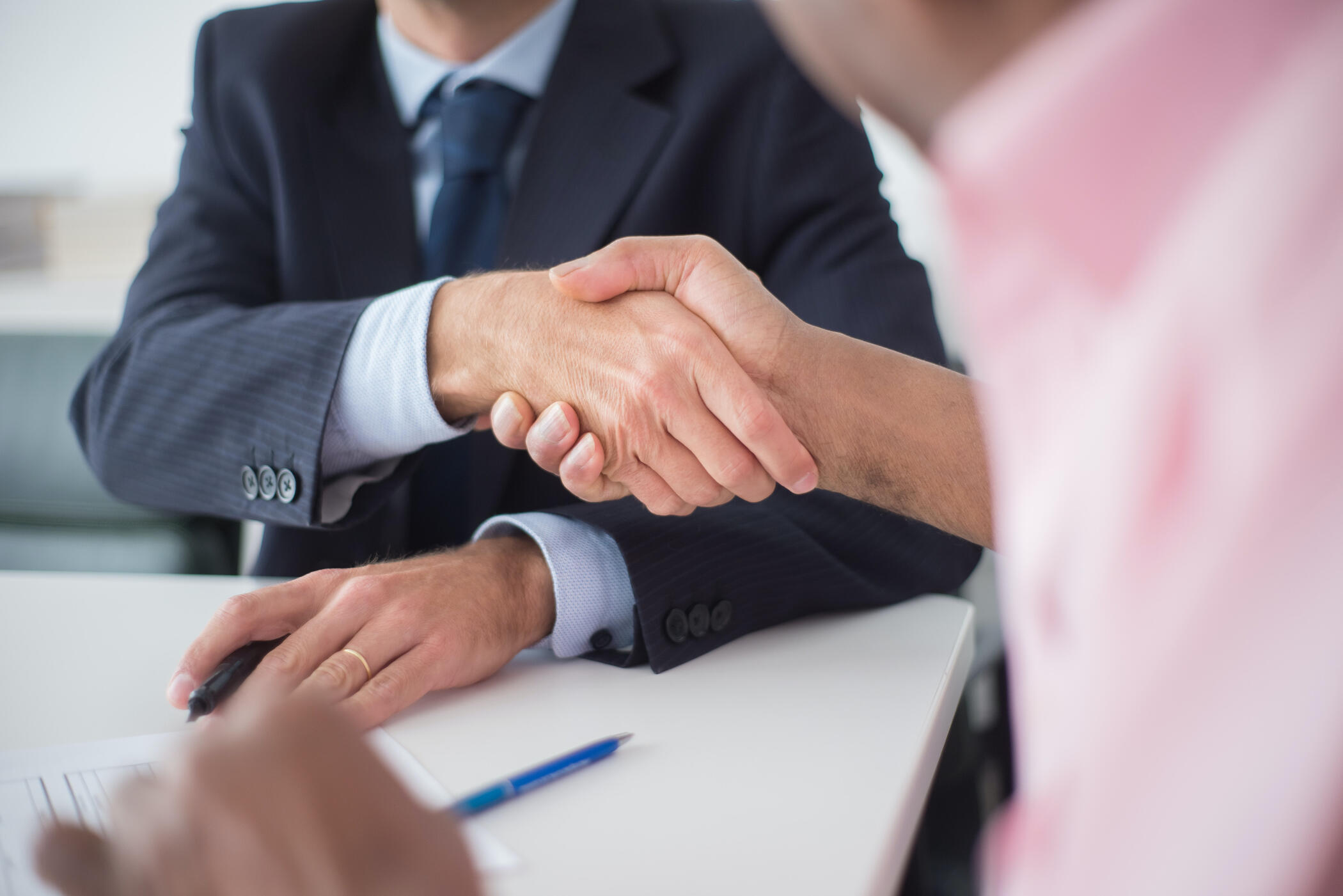 OUR APPROACH
WizoDigital offers a comprehensive end-to-end solution for off-market deal flow, curating an exclusive pipeline of targeted opportunities for investment banks and capital providers.We do this by handling the entire deal origination process, from initiating contact to securing appointments with off-market targets that align with specific criteria.
1
Client Strategy
Our team conducts an in-depth review of our clients' targets. Based on this comprehensive assessment, we craft a customized strategy specifically designed to yield optimal results.
2
Laser Targeted Prospecting
Guided by our clients' goals, we research and build a carefully curated pipeline of potential off-market deals. These opportunities are selected to align with our clients predefined targets.
3
Sourcing Premium Deal Flow
From initiating contact to securing appointments, we lay the foundational groundwork for a successful sales process. Our meticulous, end-to-end process sets the client to close more deals.
4
Close More Deals
With no time spent on deal origination, our clients can fully focus on doing what they do best: strategic negotiations and closing more deals.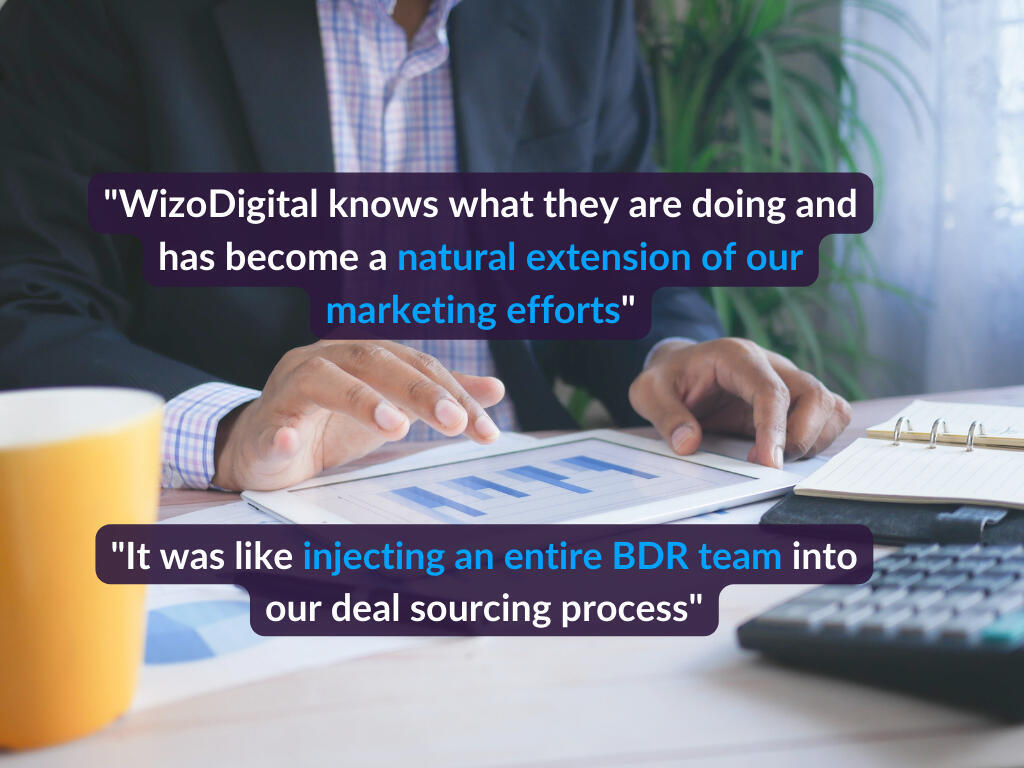 "We have never received the same kind of responsiveness, insight, and flexibility as we received from WizoDigital and Willem. WizoDigital knows what they are doing and has become a natural extension of our marketing efforts."
Claus Madsen
Managing Director | A Newman & Associates
INVESTMENT BANK: 10 APPOINTMENTS PER WEEK
GOAL: The firm sought to increase its deal flow by connecting with ready-to-sell businesses with annual revenues ranging from $2,000,000 to $50,000,000.BEFORE: Our client relied heavily on unpredictable word-of-mouth and referral leads, resulting in an uncertain deal pipeline and variable quality.SOLUTION: To address this, we introduced our robust outbound deal sourcing system, consistently delivering ten targeted opportunities each week. We took over the entire process—from target identification to contact initiation and meeting setup—offering a seamless solution to their deal origination challenges.RESULT: Established a predictable pipeline of targeted opportunities that fit their deal criteria, while saving time and money.
INVESTMENT BANK: 28 APPOINTMENT REQUESTS IN 42 DAYS
GOAL: We partnered with a prominent Investment Bank in the UK's lower middle market. Their goal was to increase deal flow across key sectors: TMT, Professional Services, Insurance, and Healthcare.BEFORE: Before engaging with us, the clients deal origination was largely passive, leaning heavily on referrals and existing networks.SOLUTION: We drove demand while focusing on discerning genuine selling intent, ensuring business owners had a clear intention to sell within the next 1-3 years. Gathering data on private companies, especially outside the US, is challenging, but we utilized insights from seven unique data sources for precision targeting. Metrics such as employee count helped estimate potential revenues, and we ensured revenue criteria were met before setting appointments.other firms could match.RESULT: We were able to bring our client 28 appointment requests in the first 42 days of our deal origination efforts with companies that had intent on selling and fit their financial criteria.
PRIVATE EQUITY FIRM: 36 OPPORTUNITIES IN A WEEK
GOAL: A small private equity firm approached us with a specific acquisition interest in pest control companies. Their primary request was to maximize the amount of opportunities, emphasizing the importance of volume.BEFORE: Before engaging with us, the client was expending significant time and effort on manual outreach, building lead lists, and struggling to avoid spam categorization, all of which yielded minimal results.SOLUTION: We initiated a targeted campaign focused on pest control companies with high selling intent and passed along opportunities that demonstrated positive responses to their in-house team. This approach enabled us to deliver warm lead volume and scale that few other firms could match.RESULT: We empowered their team to focus on progressing deals rather than sourcing them, delivered the output of a full business development team at a fraction of the cost, and provided a significant competitive edge in their market.
Let's Chat
Imagine a predictable stream of high-quality appointments that convert into closed deals.
Use our guaranteed systems and let the deals roll in!
©WizoDigital. All rights reserved.